Sufyan's Successful Study Journey in Australia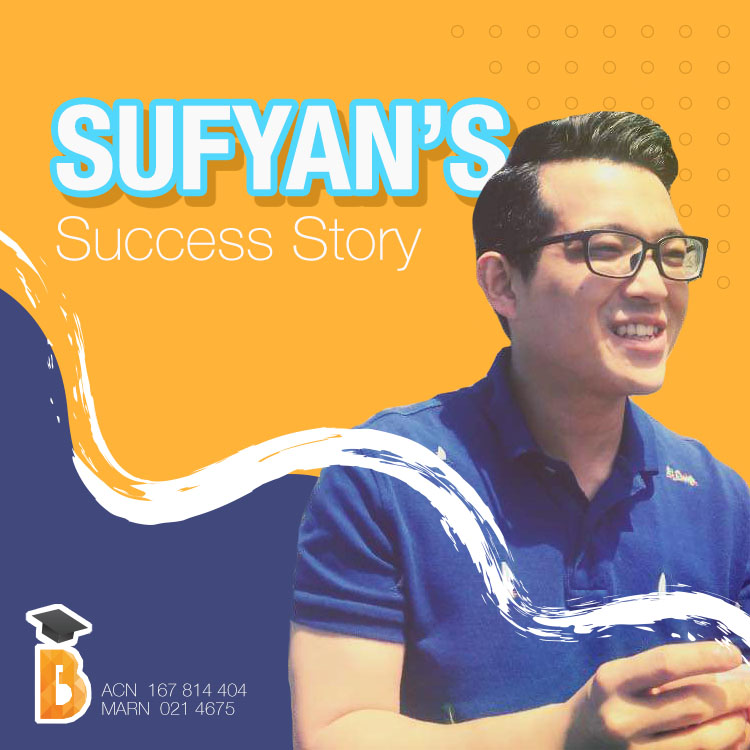 Sufyan first contacted Brightannica while he was residing and working in the United Arab Emirates in 2018. From the initial consultation, we could feel his interest in cooking and hospitality field, hence our consultant in Singapore provided all the relevant study options to his passion. After the visa grant and his arrival in Melbourne, he kept getting in touch about his study progress and future plan with Brightannica Melbourne branch office, and now he is in the process of completing the skill assessment as a chef in Australia. Sufyan is happy to share his study journey with everyone, which can be read below.
Hi Sufyan, can you share a bit of your background before studying in Australia?
I'm from Penang, Malaysia. I previously worked as a cook in Australia, United Arab Emirates, Malaysia, and Macao. Even though I have several years of experience working in the field, a lot of employers in the hotel industry don't really appreciate my experience without a qualification. Thus, I find it hard to secure a better position or climb the career ladder to be a head chef.
What course did you enroll to in Australia?
I studied commercial cookery course. I did Certificate III and IV in Commercial then continued with Diploma of Hospitality Management in Melbourne. I have now graduated and currently waiting for my temporary graduate work visa to be granted.
How was the overall learning experience for the past 2 years?
It was a great learning experience as I learned a lot from my trainers and met other international students who have the same passion for cooking as me. The trainers have a lot of working experience in their field so I can learn from their experiences. The academic staffs are helpful and the college have a great facility. Even though I have work experience in the culinary field, I learn more in-depth about budgeting, policies, laws that are applicable to the hospitality industry, and cooking for the special dietary requirement.
How many days did you go to class per week?
When I did my certificate III, I had one day for lecture class and the other day for the practical class where we worked in the kitchen. During my certificate IV and Diploma, both of the days are lecture classes. This was great for me as I had time to rest, work part-time, and complete all the assessments.
What challenges do you face to balance the work/life and study commitment?
In the beginning, I used to feel the assessments were a lot which felt a bit overwhelming. I then realized I just need to put in some time every day to complete the assessments even after my shifts to have a good study and life balance.
What additional knowledge that you gained during your study?
I learned how to do thorough research before submitting my assessment, how to better my time management skills, be more independent, and how to work together to brainstorm ideas. Apart from that, I now have an in-depth knowledge on how to create a budget for the menu, staff, and hospitality in general. If I didn't enroll in the commercial cookery and hospitality management courses, I would be struggling at work when it comes to budgeting.
How do you apply the additional knowledge in your professional and personal life?
With a better time management skills, I learn how to allocate my time to complete tasks at the workplace. Recently, my manager complimented me on how good my time management skills. In my personal life, I now do more thorough research before committing to something.
How did the coronavirus affect your study?
In the beginning, it was quite tough as I missed having a face-to-face interaction with my classmates and my trainers. It would be a lot easier to communicate face-to-face when you had to do group work or if I had some specific questions about the assessment. However, with the support from my family and my trainers, I adjusted to online learning and complete all the assessments that I needed to do.
What kind of support was given by the college during the pandemic?
My trainers would be available after the lecture class via zoom if I had any questions about the assessments. The welfare counseling services were also there to listen to my issues be it academic or personal so I always received the support that I needed.
Do you have any advice for anyone who is looking to study abroad here in Australia?
Studying abroad is a great life experience as you learn how to be more independent, get to know a new culture, and meet people from different backgrounds. In the beginning, it can be tough as you are away from family or friends that you know since childhood. However, you should put in mind that there are other international students who are in the same position as you. Make new friends, try the local cafés, explore the areas, and most importantly focus on your study!